Hello! I am so excited like every Thursday now for the past three weeks because every Thursday I get to do "When I First Saw You!"
What is "When I First Saw You?"
"When I First Saw You" is a weekly little get together created by Sophie @ Sailing Through Books and co-hosted by Izel @ A Bookish Flower. They give you a cover and you have to make your own synopsis on what the book is going to be about. You can check out my last post here to see how it works.
This Week's Cover is…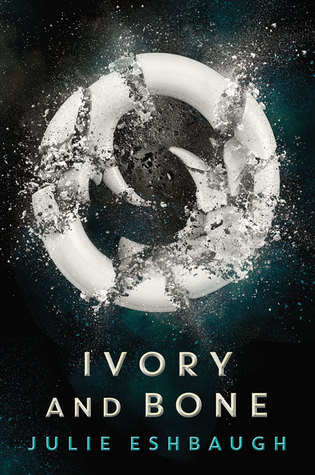 Title: Ivory and Bone
Author: Julie Eshbaugh
Publisher: Harper Teen
Release date: June 14th 2016
Add it on Goodreads
My Synopsis:
"Bea, please don't do this. It could change the past, the present, and possibly the future. Are you sure you want to do this?" James asked, his voice as cold as the winter breeze that was blowing rapidly around him.
"Yes James, I do."
Sixteen year old Beatrice McVey is a special. She makes straight A's in school, she is a bookworm, and she knows about the experiment going on in the world. It is called "Ivory and Bone," an experiment where teenagers that are nothing alike go through a series of brain games to figure out how things work in other people's minds, and she is apart of it.
When it seems like everyone is hiding secrets, even the people doing the experiment, Beatrice must go back in time to find out what is happening to her, her family and friends, and even the Earth.
Beatrice could change everything including the past, present, and the future, but she is determined that she will find out what is happening to everyone she knows and cares about. Even if it means changing everything.
The Real Deal:
The only life seventeen-year-old Kol knows is hunting at the foot of the Great Ice with his brothers. But food is becoming scarce, and without another clan to align with, Kol, his family, and their entire group are facing an uncertain future.
Traveling from the south, Mya and her family arrive at Kol's camp with a trail of hurt and loss behind them, and hope for a new beginning. When Kol meets Mya, her strength, independence, and beauty instantly captivate him, igniting a desire for much more than survival.
Then on a hunt, Kol makes a grave mistake that jeopardizes the relationship that he and Mya have only just started to build. Mya was guarded to begin with—and for good reason—but no apology or gesture is enough for her to forgive him. Soon after, another clan arrives on their shores. And when Mya spots Lo, a daughter of this new clan, her anger intensifies, adding to the already simmering tension between families. After befriending Lo, Kol learns of a dark history between Lo and Mya that is rooted in the tangle of their pasts.
When violence erupts, Kol is forced to choose between fighting alongside Mya or trusting Lo's claims. And when things quickly turn deadly, it becomes clear that this was a war that one of them had been planning all along.
Verdict:
I love my synopsis, but I am not very sure about the real synopsis. I mean, I may still read the book when it comes out, but I am not really sure if I will enjoy it or not.
It sounds like in Ivory and Bone that there is some kind of love triangle going on and I love love-triangles. Well, sort of. I think Ivory and Bone will be a fantastic book either way. I was way off either way, but that is the point of "When I First Saw You." You use your imagination the make something amazing!
I was also kind of stumped about the cover. It was kind of hard to figure out a synopsis based on the cover, but I think I did pretty good. Well, sort of.
Don't forget to check out my book blog Tumbling Through Books and don't forget to come back next Tuesday because it is my blog's birthday! I will not miss my blog's birthday this year! Take care everyone!